Double victory for Odermatt on the Olympia delle Tofane as Paris returns to the podium
Swiss victory in the second superG in Cortina d'Ampezzo, ahead of Italy's Dominik Paris, and Austria's Daniel Hemetsberger. Stefano Longo, President of Fondazione Cortina, and Gianluca Lorenzi, mayor of Cortina: «The Queen of the Dolomites proves she is ready for ever more important challenges»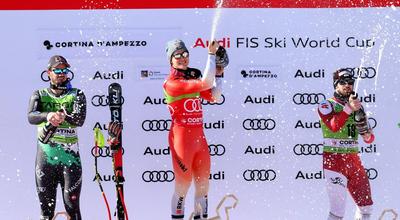 Cortina d'Ampezzo (Belluno), 29 January 2023 – Marco Odermatt wins his second super-G in two days, during a memorable weekend for the Swiss champion in Cortina d'Ampezzo, where he proved unbeatable on both days of races, organised by Fondazione Cortina. Several skiers exited on the challenging track, which presented with perfect snow conditions, but Odermatt was able to interpret the trajectory and consolidated his leadership in the specialty and overall in the World Cup. The public on the Olympia delle Tofane was thrilled not only with the elusive Swiss champion, but also with the comeback of an athlete who has struggled so far this season. Starting with bib number 1, Dominik Paris skied well enough to remain leader of the race until Odermatt (with bib number 11) knocked him off the top spot. Paris finished in second place, 0.76 seconds behind Odermatt, securing his first podium this season. Third place went to Austria's Daniel Hemetsberger (+1.03 sec). Completing the top five, Germany's Andreas Sander and Austria's Vincent Kriechmayr.
«It was a perfect weekend here in Cortina. My confidence is back, after my short break due to the injury suffered in Kitzbühel, and my skiing is smooth again» comments Marco Odermatt. «We had beautiful weather and great conditions, even if the track was not easy at all, but it worked out for me. I strengthened my position as leader of the World Cup, but there are still many races before the end of the season, and what happened to me in Kitzbühel demonstrates that it only take one mistake to end up in the nets and lose everything. Today went badly for Kilde, but Aleksander will be fast in the next race and many battles still await us. Now I'm taking a little break to be fresh for the World Championships».
«I didn't expect to get on the podium» comments Dominik Paris. «It was not easy to interpret this track and starting with bib number 1 I had no feedback on the course. However I was able to do what I had planned. It's a great motivation ahead of the World Championships».
«I didn't feel like I was skiing very well and I corrected my trajectory several times» says Daniel Hemetsberger. «When the scoreboard showed I had the third fastest time, I couldn't believe it. I am of course very happy with the result».
«It wasn't my day» comments Aleksander Aamodt Kilde. «I made a mistake, like many others, maybe because I pushed too hard. It's part of the game. I skied out, but luckily I'm unhurt, just a bit disappointed».
«5 podiums in 5 races is a success for Italian skiing, and a success for Cortina which has proven its capacity to host alpine skiing speed competitions, in complete safety and with impeccable logistics for athletes and guests alike. This is the expression of what Italy, the Veneto Region, and Cortina are capable of transmitting to the world. The queen of the Dolomites thus declares herself ready for ever more important challenges. The organizational machine is being tuned to perfection, and between now and the 2026 Winter Olympics we aim to improve further and become an international benchmark», agrees Gianluca Lorenzi, mayor of Cortina, and Stefano Longo, President of Fondazione Cortina, at the end of today's race on the Olympia delle Tofane. Praise also from FISI President Flavio Roda, who added «Cortina has surpassed itself and is complimented by the FIS, and by all the participating nations, for the great track but also for the great organizing committee which has risen to the challenge and is delivering excellence. Compliments also to our athletes who have secured two podiums in two days».