Marco Odermatt triumphs on the Olympia delle Tofane
Swiss victory in Cortina's super-G, ahead of Norway's Aleksander Aamodt Kilde and Italy's Mattias Casse. «An honour to host the men's World Cup again after 33 years» Stefano Longo, President of Fondazione Cortina. Tomorrow another super-G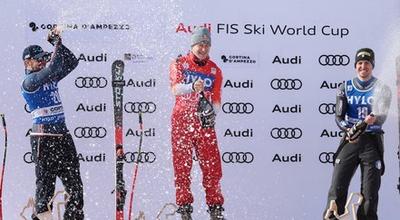 Cortina d'Ampezzo (Belluno), 28 January 2023 – Swiss champion Marco Odermatt king of the Olympia delle Tofane today as he wins the first of two super-G recovery races in Cortina d'Ampezzo, organised by Fondazione Cortina, originally scheduled in Lake Louise and Val Gardena. Returning after a brief stop due to a fall in Kitzbühel a week ago, which caused him to miss the second downhill in Kitzbühel and the giant slalom in Schladming, Odermatt confirmed his position as overall leader of the World Cup, on a challenging track where fatal errors were made by several of his competitors.
In second place, Norway's Aleksander Aamodt Kilde (+0.35 sec), who consolidates his second position in the overall World Cup ranking. Great third place for Italy's Mattia Casse (+0.49 sec), who takes his third podium of the season and of his career, his first in super-G. Austria's Stefan Babinsky and Vincent Kriechmayr complete the top five.
«The track was quite complicated today» confirms Marco Odermatt. «We had to ski well in the technical parts and I succeeded so I'm very satisfied with the result. I'm still not a 100% after my fall in Kitz. After tomorrow's race I will need a few days to recover from my knee injury ahead of the world championships».
«It's my first time in Cortina and it was great to race here (Kilde was injured during the 2021 World Championships), it's a fantastic place» enthuses Aleksander Aamodt Kilde. «The track was well prepared and quite difficult. I'm happy with my skiing, but I have some things I need to work on for tomorrow, I want to push a little harder in some passages. Odermatt? I have great respect for him. To recover from what happened in Kitzbühel and come back to win today really demonstrates he's a great athlete. Tomorrow, of course, I'll try to beat him».
«A super-G podium, after the downhill ones, is beautiful» comments Mattia Casse. «I continue to aim for a solid season».
«Cortina has again hosted the men's World Cup, 33 years after the last time, and what better way to celebrate this great honour than with Mattia Casse's podium. A triumph also for the great team of Fondazione Cortina, which has successfully delivered yet another top sports event» comments Stefano Longo, President of Fondazione Cortina. «These days we've also collected positive feedback from guests with disabilities, on the accessibility of the event, which is encouraging as we are preparing to host the Paralympic snowboard athletes 7 - 9 February, and the Paralympic alpine skiing 14 - 17 March. Fondazione Cortina and its partners are determined to make Cortina accessible for all».
Tomorrow, Sunday 29 January, another super-G start at 10.15.