CORTINA READY FOR A DOUBLE MEN'S SUPER-G
The Men's World Cup returns to the Tofane with two super-Gs

Saturday 28 and Sunday 29 January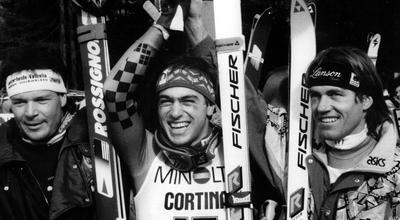 We have kept the engines running and is busy preparing for the weekend, which will see the return of the Men's World Cup to the Olympia, 33 years after the last time.
In fact, February 1990 was the year Kristian Ghedina made his debut on the circuit and took his first world cup victory, on home turf. The Ghedo, barely twenty years old, had taken third place in Val Garden and second place in Schladming during the previous weeks. On the Olympia he triumphed ahead of Daniel Mahrer (Switzerland) and Helmut Höflehner (Austria). Ghedina's first World Cup success was to be followed by another twelve. The next day saw Höflehner win, and joining him on the podium, Switzerland's Franz Heinzer and Norway's Atle Skårdal. Per Höflehner, who won the World Cup downhill ten times, took the last victory of his career that year in Cortina.
This weekend in Cortina, the men will yet again compete on the Olympia, with two superG races scheduled on Saturday 28 January, at 11.10, and on Sunday 29 January, at 10.15. Saturday evening at 18.00, in Cortina's Piazza Angelo Dibona, there will be a prize giving ceremony of the first super-G and bib draw for Sunday's race. The entire town is getting ready to welcome the greats of men's alpine skiing.
Don't miss the History. Purchase your ticket!