Heia Norge! Ragnhild Mowinckel triumphs in the super-G
Norway's Ragnhild Mowinckel wins, ahead of Austria's Cornelia Hutter and Italy's Marta Bassino.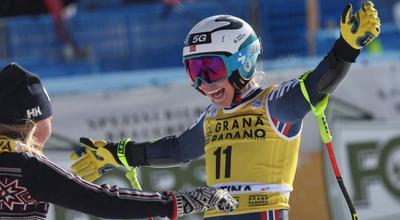 Cortina d'Ampezzo (Belluno), 21 January 2023 – Cortina d'Ampezzo (Belluno), 22 January 2023 – Norway ahead of everyone on the third and final day of the Cortina Women's Ski World Cup, organised by Fondazione Cortina, concluding with the super-G, today, Sunday 22 January.
In her third World Cup career success, Ragnhild Mowinckel was the fastest skier on the Olympia delle Tofane today, leaving Austria's Cornelia Hütter (+0.30 sec) and Italy's Marta Bassino (+0.47 sec) behind. Switzerland's Lara Gut-Berhami and France's Romane Miradoli complete the top five, followed by Elena Curtoni (Italy) and Mikaela Shiffrin (USA).
FONDAZIONE CORTINA - «This year we celebrate the 30th anniversary of the Women's Ski World Cup in Cortina and we couldn't celebrate it better than with three podiums for the home team in three days of great sports performances. Congratulations to Sofia Goggia, Elena Curtoni, Marta Bassino and all of team Italy» comments Stefano Longo, President of Fondazione Cortina. «Next weekend the Men's World Cup arrives in Cortina, something that hasn't happened for 32 years. We are ready, thanks to the great team of Fondazione Cortina, under the excellent leadership of Michele di Gallo. The success of this weekend is shared with the whole town of Cortina d'Ampezzo which has given our guests a warm welcome with many collateral events organized in collaboration with our partners».