Heia Norge! Ragnhild Mowinckel triumphs in the super-G at the 202 Cortina Ski World Cup
Norway's Ragnhild Mowinckel wins, ahead of Austria's Cornelia Hutter and Italy's Marta Bassino.
Stefano Longo, President of Fondazione Cortina: «A great weekend. We are ready for the two Men's World Cup races next weekend»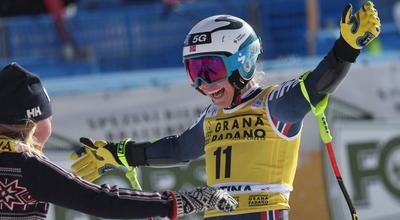 Cortina d'Ampezzo (Belluno), 21 January 2023 – Cortina d'Ampezzo (Belluno), 22 January 2023 – Norway ahead of everyone on the third and final day of the Cortina Women's Ski World Cup, organised by Fondazione Cortina, concluding with the super-G, today, Sunday 22 January.
In her third World Cup career success, Ragnhild Mowinckel was the fastest skier on the Olympia delle Tofane today, leaving Austria's Cornelia Hütter (+0.30 sec) and Italy's Marta Bassino (+0.47 sec) behind. Switzerland's Lara Gut-Berhami and France's Romane Miradoli complete the top five, followed by Elena Curtoni (Italy) and Mikaela Shiffrin (USA).
«It was a great weekend for Norway with second place in the downhill yesterday for Kajsa Vickhoff Lie, and my super-G victory today. An incredible feeling» exclaims winner, Ragnhild Mowinckel. «These results came thanks to a lot of hard work and are a great moral boost ahead of the World Championships».
«I am very pleased with my third podium of the season» comments runner-up, Cornelia Hütter. «I made some mistakes, but I had a good approach to the race. Tamara Tippler and Ramona Siebenhofer, who started before me, told me that the course wasn't that difficult and that you had to ski aggressively. And that's what I did».
«I'm very happy to have made the podium in Cortina» says Marta Bassino, in third place. «I had fun today. The snow conditions were great with almost easy snow, which allows you to ski well but makes it difficult to ski hard. I am satisfied with how I approached the race, pushing hard in the right places».
FONDAZIONE CORTINA - «This year we celebrate the 30th anniversary of the Women's Ski World Cup in Cortina and we couldn't celebrate it better than with three podiums for the home team in three days of great sports performances. Congratulations to Sofia Goggia, Elena Curtoni, Marta Bassino and all of team Italy» comments Stefano Longo, President of Fondazione Cortina. «Next weekend the Men's World Cup arrives in Cortina, something that hasn't happened for 32 years. We are ready, thanks to the great team of Fondazione Cortina, under the excellent leadership of Michele di Gallo. The success of this weekend is shared with the whole town of Cortina d'Ampezzo which has given our guests a warm welcome with many collateral events organized in collaboration with our partners. We must not forget that Cortina has a great sport tradition that, united with technical capabilities, permits us to organise great winter sports events, paving the way for the 2026 Olympic adventure».
«More than 350 people have worked all week to make the World Cup a success» underlines Michele Di Gallo, Director of Fondazione Cortina. «It is a large and well-oiled organisation which has performed very well. The track was always perfect, despite the recent snowfalls, thanks to our teams on the slope. This year we saw the return of the public, without restrictions, and the response from the fans has been great. The collateral events also went very well, and I particularly would like to highlight the initiative that involved the ski schools, bringing more than 530 kids and their coaches to see the champions up close».
Next weekend, Saturday 28 and Sunday 29 January, Fondazione Cortina will deliver two days of Men's Ski World Cup, with two super-G recovery races (not held in Lake Louise and Val Gardena).