Ilka Stuhec takes her second downhill podium
The Slovenian takes top spot ahead of Norway's Kajsa Vickhoff Lie and Italy's Elena Curtoni.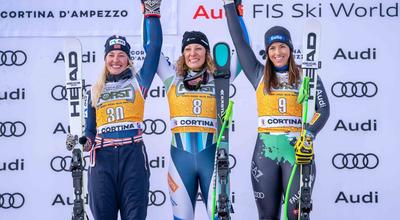 Cortina d'Ampezzo (Belluno), 21 January 2023 – The Slovenian flag waves on the second day of the Cortina Women's Alpine Ski World Cup, organised by Fondazione Cortina. Victory for Ilka Stuhec in the downhill on the Olympia delle Tofane, on a course shortened due to high winds at altitude. The 32-year old, twice world champion in the discipline, took second place in yesterday's downhill, 0,13 seconds behind Sofia Goggia. Today, she rose to the top of the podium, 0.26 seconds ahead of Norwegian surprise, Kajsa Vickhoff Lie, and 0.34 seconds ahead of Elena Curtoni, who returns to the podium in Cortina a year after her January 2022 superG victory. In tied fourth place, Norway's Ragnhild Mowinckel and Switzerland's Lara Gut-Berhami. Unlucky day for yesterday's downhill winner, Sofia Goggia, who paid for an error with a fall exiting at Rumerlo.