Ilka Stuhec takes her second downhill podium at the Cortina 2023 Ski World Cup
The Slovenian takes top spot ahead of Norway's Kajsa Vickhoff Lie and Italy's Elena Curtoni. Former stars in finish area of the Olympia, which tomorrow will host the super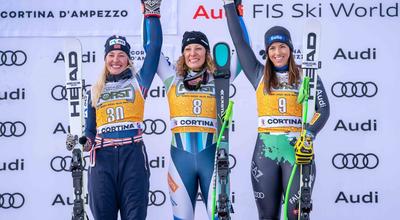 Cortina d'Ampezzo (Belluno), 21 January 2023 – The Slovenian flag waves on the second day of the Cortina Women's Alpine Ski World Cup, organised by Fondazione Cortina. Victory for Ilka Stuhec in the downhill on the Olympia delle Tofane, on a course shortened due to high winds at altitude. The 32-year old, twice world champion in the discipline, took second place in yesterday's downhill, 0,13 seconds behind Sofia Goggia. Today, she rose to the top of the podium, 0.26 seconds ahead of Norwegian surprise, Kajsa Vickhoff Lie, and 0.34 seconds ahead of Elena Curtoni, who returns to the podium in Cortina one year after her superG victory in January 2022. In tied fourth place, Norway's Ragnhild Mowinckel and Switzerland's Lara Gut-Berhami. Unlucky day for yesterday's downhill winner, Sofia Goggia, who paid for an error with a fall exiting at Rumerlo.
«I'm very happy» declares Ilka Štuhec. «In recent months I have continued to fight and I've been having good sensations. To be back at the top of the podium, more than four years after the last time, is fantastic».
«When I reached the finish line and looked at the scoreboard I thought it said 20, but then I realized it was 2!» exclaims an emotional Kajsa Vickhoff Lie. «This second place is amazing. I knew I skied well in the first downhill (13th yesterday, Ed.) and then Ragnhild, (starting with race bib 5, Ed.), gave me the right advice to go all out because the snow conditions were perfect. I'm sorry I can't share this podium with her, she arrived fourth by a tiny margin. I started slow this season but my hard work is paying off and it is great to get this result just before the World Championships».
«I'm pleased that I'm becoming more decisive in the downhill» comments Elena Curtoni. «Last year I skied well in training but I was unable to perform in races. I'm more consistent now and I'm very happy to be on the podium here in Cortina».
The second day of the Cortina Ski World Cup saw the presence of numerous past champions. Among these, Kristian Ghedina, Alberto Tomba, Deborah Compagnoni and Renate Götschl. To applaud the champions of Cortina ... Queen of Speed, Andrea Abodi, minister of sport, Giovanni Malagò, president of Coni, Flavio Roda, president of Fisi, Giuseppe Sala, mayor of Milan, and mayor of Cortina d Ampezzo, Gianluca Lorenzi.
Tomorrow, Sunday 22 January, the super-G, scheduled for 11.30, will conclude the 2023 Women's Alpine Ski World Cup here in Cortina.