Sofia Goggia unbeatable in the first downhill at 2023 Cortina Ski World Cup
Top spot on the podium for the Italian champion, ahead of Slovenia's Ilka Stuhec and Germany's Kira Weidle. ĢI dedicate this victory to Elena Fanchini who is going through a difficult moment in her lifeģ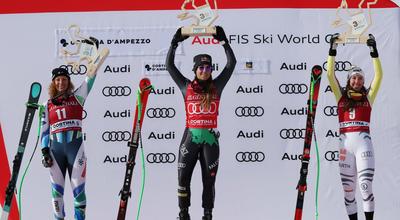 Cortina d'Ampezzo (Belluno), 20 January 2023 – Goggia stole the show today in the downhill that opened the three days of Cortina Women's Ski World Cup, organised by Fondazione Cortina. With today's triumph, Goggia takes her third win in her downhill career on the Olympia delle Tofane, bringing her overall career successes to 21.
The champion from Bergamo, who yesterday achieved the best time in the training run, today took the top spot on the podium ahead of Slovenia's Ilka Stuhec (+0.13 sec), and Germany's Kira Weidle (+0.36 sec). Also in the top five, USA's Mikaela Shiffrin (+0.50 sec) and Switzerland's Lara Gut-Behrami (+0.53 sec).
«I dedicate this victory to Elena Fanchini who is having a difficult moment in her life» explains Sofia Goggia. «As far as the race is concerned, today there were two races, for those of us who started first the visibility was flat, then after the stop due to Corinne Suter's fall, it opened up and to be able to descend with perfect visibility at 100km/hour makes a difference. I had a solid but not perfect race and I want to do a careful video analysis this afternoon. During the first part I was too precise, I should have let the skis go a little more but I am still a little affected by my hand injury. However, I am obviously happy with the result. Tomorrow is another race and, as we know, the next race is always the most important one».
«I am really happy, this second place is a great result» underlines Ilka Stuhec. «The conditions were perfect, the visibility for the first starters was not always perfect but that is part of the game. In the second downhill tomorrow I don't want to make the mistakes I made today».
«This is my second third place in downhill this season» comments Kira Weidle. «I am pleased, but I want to do even better, and I am really happy I get a second chance tomorrow. Goggia is not unbeatable».
Tomorrow, Saturday 21 January, a second downhill will take place with start time 10.00.