Sport and gastronomy of the highest caliber at the Cortina Audi FIS ski world cup 2023
Chef Team Cortina protagonist at the Tofana Lounge 20 - 22 January, with Ampezzo delicacies and much more. Fondazione Cortina supported by local suppliers, promoting a healthy lifestyle and quality products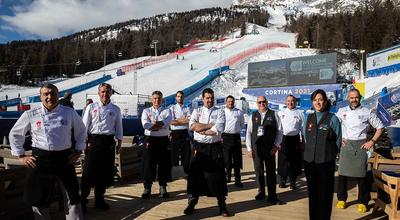 Cortina d'Ampezzo (Belluno), 14 January 2023 – In addition to offering sport at the highest level, the Cortina Ski World Cup, organised by Fondazione Cortina, will also offer a gastronomic experience dedicated to the traditional flavours and culinary traditions of the Ampezzo valley and the Veneto Region. The Tofana Lounge, with its panoramic views of the finish area in Rumerlo, is the place to be 20-22 January for the three days of Women's World Cup super-G and downhill races.
In the kitchen, the champions of Cortina's top restaurants, Chef Team Cortina, a group of nine professional chefs, united by a desire to showcase the culinary traditions of Cortina and to experiment through innovation and research. These nine chefs, from some of Cortina's top restaurants, are Fabio Pompanin from Al Camin, Luca Menardi from Baita Fraina, Luigi Dariz from Da Aurelio – Passo Giau, Carlo Festini from Lago Scin, Michel Oberhammer from Piè Tofana, Nicola Bellodis from Rio Gere, Graziano Prest from Tivoli Cortina, the Bocus family from Villa Oretta, and Massimo Alverà from the Alverà patisserie.
«We have been collaborating with the World Cup for years and we are happy to be back again this year, working with Fondazione Cortina. We are passionate about showcasing our gastronomic traditions and culinary excellence to the world» explains Graziano Prest who, together with Fabio Pompanin, was in charge of catering at Casa Italia during the Tokyo and Beijing Olympics. «During the three World Cup days we propose the traditional canederli (dumplings) and casunziei (half-moon shaped pasta with redbeet), but we also offer fried prawns in polenta crust. The Cortina Ski World Cup is a great opportunity to try traditional flavours as well as innovative dishes that take you on a true gastronomic journey, guided by curiosity and the thrill of experimenting».
The Cortina Ski World Cup collaborates with a range of quality producers from the local territory. At the Tofana Lounge, guests can savour products from Consorzio Piave Dop, producer of Piave cheese, water from Acqua Dolomia, spirits by Villa Laviosa, wine by Fantini, and bubbly from Prosecco DOC, as well as the official beer of the Italian Winter Sports Federation, Birra Forst, and coffee from Caffè Lavazza.
«The Cortina Ski World Cup represents a great showcase to promote the beauty of the area and the many excellences the territory has to offer» stresses Lorenzo Tardini, Marketing Manager at Fondazione Cortina. «This year we are once again joined by many companies of distinction in the food and wine sector, whose products can be tasted at the Tofana Lounge. Together with these companies, with whom we have established close relationships, we aim to be ambassadors of our territory and to promote a healthy lifestyle with quality products».
Links:
Download the press release
Download images