Cortina is ready for the 2023 Audi FIS Ski World Cup
With less than a month to go until the Women's Audi FIS Ski World Cup races in Cortina, preparations are nearly complete. The Finish area in Rumerlo, at the feet of the iconic Tofane mountains, is being set up for the superG and downhill races scheduled for the 20, 21, and 22 January 2023.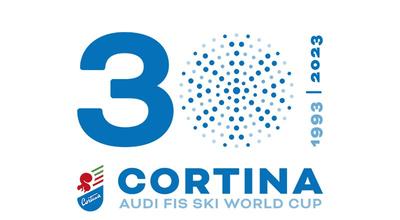 The preparation of the Rumerlo Finish Area of the Olympia delle Tofane, the track where the Women's Audi FIS Ski World Cup races will take place during 20-22 January 2023, is well underway. The three-day Ski World Cup in Cortina will see the world's top female skiers compete in one downhill and two super-G races. The recent snowfalls have undoubtedly aided the preparations, in addition to turning the breathtakingly beautiful Ampezzo Valley into a picture perfect winter wonderland.
The Finish Area at the feet of the legendary Tofane mountains has hosted the Women's World Cup for nearly three decades and was the stage of last year's Ski World Championships.
The Finish Area will have a Fan Village with activities for the fans offered by various partner companies, as well as the opportunity to enjoy local Ampezzo food traditions. Fans wishing to attend the three-day Cortina Ski World Cup event can choose between the parterre area, with free admission to the super-G on Friday 20 January, and the grandstand. Spectators can also take advantage of the exclusive Tofana Lounge, with a large terrace and excellent views of the arrivals area. Chef Team Cortina, consisting of chefs from a selection of Cortina's most prestigious restaurants, will be responsible for the catering, showcasing the gastronomic traditions for which the territory is famous. The Lounge will also offer a wine and cocktail bar, as well as music and DJ-set. A dedicated shuttle service will be available.