Curtoni triumphs in SuperG
On the spectacular Olympia of the Tofane, Elena conquers her second success in the World Cup, ahead of Austria's Tamara Tippler and Switzerland's Michelle Gisin.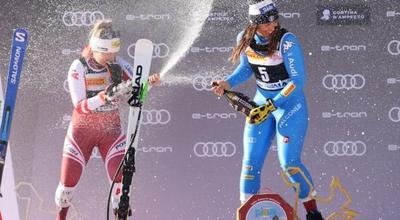 Cortina d'Ampezzo (Belluno), 23 January 2022 - The Italian flag is still flying at the foot of the Tofane. On the Olympia, which yesterday, Saturday 22 January, had seen the victory of Sofia Goggia, it was another Italian skier, Elena Curtoni, who lined up the rest of the athletes.
In Cortina, Elena Curtoni beat Austrian Tamara Tippler by nine hundredths and Swiss Michelle Gisin by 24 hundredths, giving the Italian Winter Sports Federation victory number 301. Federica Brignone was 8 hundredths off the podium. The top five was completed by Switzerland's Corinne Suter, while the American Mikaela Shiffrin, leader of the overall Cup, finished 16th, 1"01 behind.
Sofia Goggia, on the other hand, left everyone in suspense: eagerly awaited after her success yesterday, she had a fall in the "Scarpadon" downhill section, suffering an injury to her left knee.