Sofia Goggia unbeatable in Cortina
The Italian skier, stronger than mistakes and wind, wins the World Cup downhill on the Olympia of Tofane, confirming her supremacy in speed.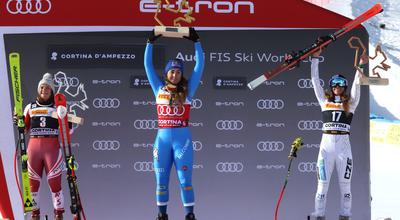 In the downhill of Cortina d'Ampezzo, whose start was moved down in front of the Duca D'Aosta hut because of the strong wind in the upper part, Sofia Goggia confirmed herself as the queen of the world speed. She won (the second victory in Cortina after the one, always in downhill, of 2018) despite two important mistakes.
The Austrian Ramona Siebenhofer (who won the two downhill races in Cortina in 2019) was 20 hundredths behind her, while the podium was completed by the multi-talented athlete from the Czech Republic Ester Ledecká, who just over a month ago won the Snowboard World Cup on the Ampezzo slopes.