FIS Ski Race Genie
Play with FIS Ski Race Genie, the first app that takes you to the center of the White Circus!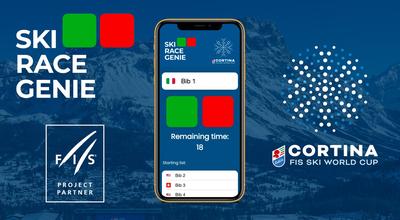 With FIS Ski Race Genie you can play live from home or from the stadium guessing the result of the race and win prizes provided by FIS.
At the start of the athlete, you will have 30 seconds to answer <green or red> and win by challenging other fans from around the world.
How to play?
3 - CREA il tuo account su WWW.SKIRACEGENIE.COM
2 - PLAY on January 22 (10:00 CET) and January 23 (11:30 CET)
1 - WAIT for the Race to start...
...GO! You have 30 seconds from the moment the starting gate opens. So 30 seconds to win by CLICKING the appropriate buttons!
Sign up now on www.skiracegenie.com
FIS Ski Race Genie was created from the synergy betweenONESporter,FIS and the Cortina d'Ampezzo FIS Ski World Cup Organizing Committee.