The Women's Alpine Ski World Cup takes shape in Cortina: the finish area set up has begun
On January 22nd and 23rd, the girls of the White Circus will compete in the downhill and super-G on the famous Olympia delle Tofane. In the finish area, grandstands, TV stations and hospitality tents are being prepared.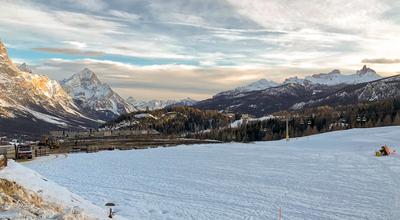 Cortina d'Ampezzo (Belluno), 15th December 2021 - There is just over a month left until the return of the Women's Alpine Ski World Cup in Cortina and at the foot of the Tofane, the works have begun to set up the Rumerlo finish area. On Monday, the OC began to shape the finish area of the Olympia delle Tofane, the track on which the women of the White Circus will put on a show next January.
On Monday the snow was cleaned by Dolomiti Strade, while on Tuesday, the Sartoretto Group started the assemblage of the grandstand. Both are technical sponsors of the Cortina Ski World Cup.
"The structure, located on the short side of the finish bag - thus allowing the public an optimal view of the entire final part of the races and the fantastic landscape surrounding it - measures 42 meters in length and offers a thousand seats" explains Sebastiano Dabalà, finish area manager. "Upstairs, the cabins dedicated to TV commentators will be positioned. The assembly work of the grandstand will be completed before Christmas, while from the first days of January we will begin the preparation of the other structures, from the hospitality tent to the spaces to house the cameras and officials of the various national teams, as well as for the public access".
"The finish area is one of the important legacies of the 2021 World Cup" underlines Michele Di Gallo, Secretary General of the World Cup. "On that occasion it was renewed and expanded, thus allowing a better usability by the public. An audience that, unfortunately, could not be there last February but which - and for this reason we are working tirelessly - we hope to see next January, to make the atmosphere of the World Cup even more electrifying. We have already started to sell tickets and in the next few days we will present the dedicated parking and transport plan".
"From January 10, the work to set up the race course will begin," adds Di Gallo. "In synergy with the Italian Federation of Winter Sports, the Municipality of Cortina, the sponsors, Ista lift company, the Hoteliers' Association and other local realities, we are carrying out a meticulous work to ensure that the Cortina World Cup stage will not only confirm but consolidate and relaunch its role as the very classic of the Women's circuit".
Links:
Photo download